There we are, in the center of Vilnius. The audience in the shopping street slowly turns pink, the crowd around us is growing steadily. The atmosphere is slightly tense, but optimism prevails. Balloons with the text We are Orlando are handed out, as are rainbow flags. Banners are unfurled, music swells. Vilnius is getting ready for the Baltic Pride March for Equality. And we are there.

Less than a week after the attack on visitors to the Pulse gay club in Orlando, we are celebrating again. It gives an uncomfortable, but above all proud feeling. More than ever before I feel part of the LGBTI community; a community that still has to fight for its rights worldwide. Although I am part of it, I have never felt this before. It almost sounds naive to admit, but this feeling is really new to me. At home in Amsterdam I feel safe and accepted. I feel no obstacles to being who I am and I experience what it is like to live in a tolerant country. At least, compared to many other places in the world where LGBTI rights and living conditions are poor.
Previous editions of Baltic Pride have been brutally disrupted by protesting crowds. In previous years, the March for Equality has been pelted with eggs and glassware and dispersed by protesters. That makes our participation in the march quite exciting. The armed police officers who are stationed along the route – whether concealed or not – contribute to that feeling. The officials are also gathering around us. Ministers and ambassadors from various European countries are participating in the march. Out of solidarity, but also because they know that only their presence will ensure that the security of the march is increased. Or is there at all.
The crowd starts moving and just then the sun breaks through. The first meters we walk I feel the tension building, not knowing how all the spectators – who are now standing in large numbers on the side of the road – will react. But with every step we take, that feeling fades away. People are waving at us and laughing. Young families with small children join in spontaneously and enthusiastically wave rainbow flags. The atmosphere is pleasant. The handful of demonstrators chanting slogans (which fortunately I don't understand) are dwarfed by the 3,000 people happily marching through Vilnius' main street.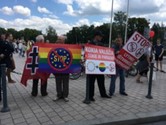 And then suddenly it dawns on me. The dream we formulated with the Give a Damn circle is coming to life around me. What until then was just a text, I now experience in reality. I experience the effect of our support and that of the officials marching along. Together we made it possible to realize a peaceful march for the first time in the history of Baltic Pride. We have been able to contribute, literally and figuratively, to creating opportunities for LGBTI people in the Baltic States. We have helped to empower the organization and the people it stands up for. I will never forget this experience and that feeling. And more than ever before I realize: I want to pass this on. This feeling, this experience, this inspiration. And so the drive arose on the spot to inspire other LGBTIs to contribute to their own community, worldwide. Because that is still desperately needed. Let's make a difference together and bring others' dreams to life. Let's give a damn!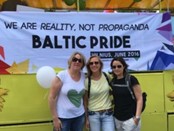 Vera Peerdeman
Give a Damn Foundation
P.S. As festive and peaceful as the March for Equality has been, there is still a lot of work to be done for LGBTI rights in Lithuania. On June 28, we received the worrying news that same-sex couples are not recognized as family by the Lithuanian government. Read more here. The board made the trip to the Baltic Pride at its own expense.